The Eucharist:

To learn more about the Eucharist, please click here. The Easter practice par excellence is the celebration of the Eucharist and partaking in Most Holy Communion (this is what used to be called the Easter duty, to go to Communion at least once a year and this during the Easter Season). So, this Easter Season we invite you to join us for Mass in person or online. 

At Good Shepherd we will focus on some different elements each weekend as listed below:
April 10-11, 17-18, 24-25: Join us for Mass as we continue to celebrate the Easter Season
May 1-2: Join us for Mass and the Crowning of Mary.
May 8-9, 15-16: Join us for Mass as we continue to celebrate the Easter Season
May 22-23: Join us for Mass as we celebrate Pentecost and for our Celebration of First Holy Communion.
May 29-30: Join us for Mass as we celebrate the Most Holy Trinity. 
June 5-6: Join us for Mass as we celebrate the Solemnity of Corpus Christi. 

At NET Catholic Within the context of the Eucharist we will be celebrating and focusing on the other Sacraments throughout the Season of Easter, since it is through the Sacraments that we celebrate the Divine Life, the life of the Spirit of the Risen Christ within us. It is through the Sacraments that we become aware of this life in us and collaborate with it so that we can rise with Christ, fully alive. We will extend this practice a little beyond the Easter Season through the Solemnities of Pentecost, Holy Trinity and Corpus Christi to see how this Divine Life takes flesh in the Church (us) as we become neighbors to all others, Good Samaritans, Sacraments of the Father.

April 10-11 and April 17-18: We continue to focus on Easter as a celebration of Life (Creation, Redemption and Sanctification) as we try to allow this joy into our lives. (Symbol: Water, Paschal Candle, Eucharist).  April 17: Prayer for Confirmands.

April 24-25: On this Good Shepherd's Sunday we focus on Jesus as Sacrament of the Father (Symbol: Good Shepherd).

May 1-2: We focus on the Sacraments through which we serve others: Holy Matrimony and Holy Orders.  We offer a special blessing for married couples today as well as a special prayer for vocations. A Rosary for vocations will be offered for vocations and couples during Adoration this week  (Symbol: Ritual of Holy Matrimony, Sacred Chrism, Stole, Rings, Blessing of couples celebrating quinquennials). Consecration of Families to Mary and Crowning of Mary.

May 8-9: We focus on the Sacraments of Healing (Symbol: Oil of the Sick and Purple Stole) Anointing after Mass for those that want it.

May 15-16: We focus on Eucharist: Celebration of First Holy Communion.

May 22-23: Great Feast of Pentecost. We focus on the Sacraments of Baptism and Confirmation, by which we belong to God and others in the Church and are Sent to Evangelize,  to serve the whole world. The Church as Sacrament: Proclamation, We are prophets. (Symbol: Water, Oil of Catechuments, Blessing of Seniors, Recognition of Hands of Christ recipients and Confirmands).

May 29-30: Most Holy Trinity. The Church as Sacrament: Unity, We are priests. (Symbol: Trinity of Unity)

June 5-6: Solemnity of Corpus Christi. The Church as Sacrament: Service Bread Broken, Care for the Poor

June 12-13: The fullness of the Divine Life within us: We are Good Samaritans. We become the Good Samaritan, Neighbors to all others. (Symbol: Good Samaritan).

Easter Daily Practices:

Daily Mass: Join us for Mass in person or online, see schedule here.

Daily Devotions:  Join us for the Regina Caeli at Noon or Devotion to the Sacred Heart at 3 pm. Click here.

Daily Reflection: Click here for semi-daily reflections on our Facebook

Prayer:

You can find Pope Francis' Catechesis on Prayer and many other resources to learn how to pray here.

Easter Mission and Retreats:

In person mission: "Life in the Spirit, through the Sacraments" with Father Bill Moorby
 
We will offer two in person options for all:
 
Monday, April 12, 9:00 am at Saint Patrick's in Aurora.
Monday, April 19, 6:30 pm at All Saints in Lansing.

Two in person family gathering options at Good Shepherd:

Monday, April 26, 5:30 pm 
Monday, May 3, 5:30 pm
 

Easter Online Mission: Sacraments of the Father, Neighbors to All Others with Father Daniel Ruiz

We will offer two options for the online Mission:
1. In the context of Adoration and Benediction with the Blessed Sacrament on the Mondays of Easter (April 5, 12, 19 and 26. May 3, 10, and 17.) at 8:30 pm, through YouTube and Facebook.
 
2. As a series of 7 minutes videos on the Fridays of Easter (April 9, 16, 23 and 30. May 7, 14 and 21) at 6 pm. through YouTube and Facebook.

Good Shepherd Family Gatherings - Please see the Bulletin

NET Catholic Family Gatherings: Sacraments of the Father, Neighbors to All Others with Father Daniel Ruiz

Tuesday, April 27, 6:15 pm, Holy Cross in Freeville
Tuesday, May 4, 5:30 pm, All Saints in Lansing
Saturday, May 1, 4:30 pm, Saint Anthony in Groton
Tuesday, May 11, 5:30 pm, All Saints in Lansing

Confirmation Retreat and Celebration of Confirmation:

Our Confirmands will have an Easter Retreat in Aurora, April 17 1pm - 5pm. 

The Celebration of Confirmation with Bishop Matano, will take place at Saint Alphonsus (85 E Genesee St, Auburn, NY 13021) 10:30 am Saturday, April 24.

First Holy Communion Retreat and Celebrations: 

Our First Communicants will have a Retreat at All Saints on Saturday, May 1 from 11 am to 2:30 pm. They are welcome to join us for Sunday Mass at 2:30 pm the same day at All Saints.

The Celebration of First Holy Communion 

At Good Shepherd will take place in the weekend of May 22 and 23.

At NET Catholic will take place on the weekend of May 15 and 16 as follows:

At Holy Cross 8:30 am Mass, at Saint Anthony 4:30 pm Mass, at All Saints 10:30 am Mass.

Easter Reading:

This Easter we are proposing two books for you to purchase and read, this will help us meditate on the work of the Spirit of the Risen Christ in the Early Church and in our Church (our parishes) today as we prepare to reimagine, renew and rebuild:

Click on the book title to be directed to where you can purchase the book:  Evangelii Gaudium, and/or the book: Acts: The Good News of the Holy Spirit online.

"Evangelii Gaudium," by Pope Francis. Father Daniel will be providing resources and discussion opportunities as you read along. Discussion group will meet on Zoom April 17 for an introduction, May 22, 29, and June 5 for discussion at 9 am. 

Bible Study on Acts using the book "Acts: The Good News of the Holy Spirit," by Kevin Perrotta. Discussion groups will meet on Zoom for three bi-weekly meetings May 12 (chapters 1 & 2), May 26 (chapters 3 & 4), June 9 (chapters 5 & 6). 

To join the book conversations on Zoom use the following info on the dates and times listed above: 
Join Zoom Meeting
https://zoom.us/j/99687579278

Meeting ID: 996 8757 9278
One tap mobile
+19294362866,,99687579278# US (New York)

Dial by your location
        +1 929 436 2866 US (New York)


For those that want to go deeper in transforming this world into the Kingdom, here are great church documents to properly form your conscience and direct your transformative action in The Truth:

On Renewing the Family (Domestic Church): Pope Francis, Amoris Laetitia (The pope has declared a year of reflection on the family and Amoris Laetitia March 2021-March 2022)

On Renewing and reimagining the church: Pope Francis, Evangelii Gaudium.

On Renewing the World:

On unity: Pope Francis, Frattelli Tutti.

On Integral Ecology (care of creation and the poor): Pope Francis, Laudato Si.  Click here for a study guide on Laudato Si

On Racial Equity: USCCB, Open Wide Our Hearts

On care of immigrants: USCCB, Strangers No Longer Together on the Journey of Hope and Responding to Refugees and Migrants Twenty Action Points.

On a Consistent Ethic of Life: Saint John Paul II, Evangelium Vitae.




Celebrate Christ's Victories in you in the Sacrament of Christian Conversion:

Click here for guidance on the Sacrament of Confession

Confession schedule

Sundays  8:00-8:20 am
at St. Patrick Church,
Moravia
 
Tuesdays 6:30-7:00 pm at Our Lady of the Lakes Church,  King Ferry

Thursdays 4:30-5:00 pm at St. Michael, Union Springs
 
Saturdays  6:00-6:30 pm at St. Patrick Church, Aurora
 
Saturday, April 10,
11am-1 pm at Holy Cross, Freeville

Saturday, May 15
11am-1pm at All Saints, Lansing
 
Saturday, May 22,
11am-1pm at St. Anthony, Groton

Easter Ignatian Retreat with Dawn:

Tuesday of Easter 6 pm through Facebook and YouTube

At-Home Ritual:
We invite you to place the white matt on your Sacred Space to reflect the liturgical color of this season. We also invite you to place the Risen Christ that we made at the in-person gatherings (or that you received in your kit) on your sacred space to remind you of what we are celebrating. During Holy Week we invited you to make your own paschal candle, if you did so, or if you want to make one now, also place the candle on your sacred space. In addition, you will receive a container with Holy Water blessed at the Easter Vigil, we invite you to place that also on your Sacred Space and to use the water to bless yourselves throughout this season. In your kit you will also receive a Pentecost craft that you will enjoy very much. Finally, in your kit you will receive the Sacraments Octagon, that will guide you through our at home ritual this season and help the whole family reinforce what we will be learning. You can find the same guide as in the Sacrament Octagon below.

Sacraments Octagon:

Through the 50 days of this Season of Easter we embrace the new life that the Resurrection brings us. In the Sacraments we celebrate how the life of God growing within us completes our creation with our collaboration and accomplishes in us our own resurrection, the fullness of life. We become God's image and likeness. Sacraments of the Father, Neighbors to all others.

The octagon has been a Christian symbol since the early Church, signifying God's ongoing work of creation that extends beyond the initial 7 days of creation and will come to completion on the 8th day of creation, the day of fulfilment,  in which Christ will be all in all.
This process of ongoing creation happens through God's grace and human cooperation. This encounter of the divine and the human is celebrated and made possible through the awareness and openness we gain through the sacramental life.
This Octagon walks us to those Sacramental realities into the fullness of our creation, that 8th day of fulfilment.
We will walk this journey from Easter to Pentecost to Corpus Christi in 8 stages.  Each Sunday during this journey we invite you to rotate the top part of your Octagon so that the window lies on the indicated days, then on that day and until Saturday that week take a few minutes each day to read and do what is indicated in the window.
Week of April 25- May 1:  The Good Shepherd: Christ, Sacrament of the Father
Know (Mind): 
Read: "Jesus said:…Whoever has seen me has seen the Father…I am in the Father and the Father is in me. The words that I speak to you I do not speak on my own. The Father who dwells in me is doing his works. Believe me that I am in the Father and the Father is in me." John 13:9-11
Understand (Heart):
Pray: Dear God, help me to know Jesus, in all his humility, mercy and joy; so that in Him I can learn that you are humble, merciful and wants for us the fullness of joy, for in knowing Jesus we know God. Amen.
Serve (Wisdom-Hands):
Do: This week spend some time each day just sharing stories about Jesus that each member of the family might remember. Discuss: What kind of person is Jesus? What do we learn about God from the way Jesus is?

May 2- May 8: Holy Matrimony and Holy Orders: In service we reveal God's love to the world.
Know (Mind): 
Read: "Holy Orders and Matrimony, are directed towards the salvation of others; if they contribute as well to personal salvation, it is through service to others that they do so. They confer a particular mission in the Church and serve to build up the People of God. Through these sacraments those already consecrated by Baptism and Confirmation1 for the common priesthood of all the faithful can receive particular consecrations. Those who receive the sacrament of Holy Orders are consecrated in Christ's name "to feed the Church by the word and grace of God." On their part, "Christian spouses are fortified and, as it were, consecrated for the duties and dignity of their state by a special sacrament." Catechism of the Catholic Church #1534-1535
Understand (Heart):
Pray: Loving Father, this week help me to show your love to the world. Help me be generous and faithful in the vocation you have given me, always intent in taking care of my relationships through love and service. Amen.
Serve (Wisdom-Hands):
Do: This week try to be intentional in working on your vocation and relationships. Say thank you, I am sorry, ask for permission.
Week of May 9- May 15: Reconciliation and Anointing. God offers us healing, so that we to can bring healing to others.
Know (Mind): 
Read: "Is anyone among you sick?* He should summon the presbyters of the church, and they should pray over him and anoint [him] with oil in the name of the Lord, and the prayer of faith will save the sick person, and the Lord will raise him up. If he has committed any sins, he will be forgiven. Therefore, confess your sins to one another and pray for one another, that you may be healed. The fervent prayer of a righteous person is very powerful." James 5:14-16
Understand (Heart):
Pray: Divine Physician heal my body and my spirit. Forgive my sins and help me embrace your mercy leaving guilt and shame behind. Make me an instrument of healing for others, for the whole world. Amen.
Serve (Wisdom-Hands):
Do: This week try to be intentional in forgiving yourself and accepting God's unconditional love and forgiveness (you could celebrate the Sacrament of Confession). As you go about your life try to bring healing to others.
Week of May 16-22: The Eucharist: We belong to each other. We are called to build unity in diversity.
Know (Mind): 
Read: In a sermon given around the year 415, Saint Augustine, one of the Fathers of the Church,  was preaching on Paul's first letter to the Corinthians 10:17: "We who are many are one body for all partake of the one bread". He explained how sharing the one loaf and drinking the one cup makes us one: "Remember that the bread is not made from one grain but from many. Many grapes hang on the cluster, but the juice of the grape is gathered together in unity. So also the Lord Christ signified us, wished us to belong to him, consecrated on his table the mystery of our peace and unity"

Understand (Heart):
Pray: Holy Trinity, God who is one and three, three distinct persons in perfect unity on diversity. Help me to be a builder of unity. That I may honor you and the Eucharist by trying to bring peace and reconciliation every where I go. Amen.

Serve (Wisdom-Hands):
Do: This week ask for forgiveness if you have hurt anyone. Try to accept others, especially those who are different and help them feel included. Put unity about your desire to win.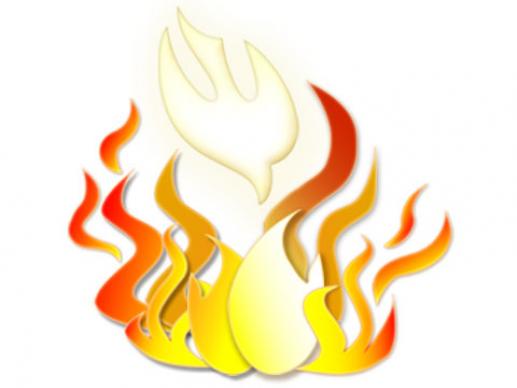 Week of May 23-29: Great Feast of Pentecost. The Church as Sacrament of Salvation: Proclamation, We are prophets through Baptism and Confirmation.

Read: "When the time for Pentecost was fulfilled, they were all in one place together. and suddenly there came from the sky a noise like a strong driving wind, and it filled the entire house in which they were. Then there appeared to them tongues as of fire, which parted and came to rest on each one of them. And they were all filled with the holy Spirit and began to speak in different tongues, as the Spirit enabled them to proclaim. Now there were devout Jews from every nation under heaven staying in Jerusalem. At this sound, they gathered in a large crowd, but they were confused because each one heard them speaking in his own language. They were astounded, and in amazement they asked, "Are not all these people who are speaking Galileans? Then how does each of us hear them in his own native language? We are Parthians, Medes, and Elamites, inhabitants of Mesopotamia, Judea and Cappadocia, Pontus and Asia, Phrygia and Pamphylia, Egypt and the districts of Libya near Cyrene, as well as travelers from Rome, both Jews and converts to Judaism, Cretans and Arabs, yet we hear them speaking in our own tongues of the mighty acts of God." Then Peter stood up with the Eleven, raised his voice, and proclaimed to them, "You who are Jews, indeed all of you staying in Jerusalem. Let this be known to you, and listen to my words. Jesus the Nazorean was a man commended to you by God with mighty deeds, wonders, and signs, which God worked through him in your midst, as you yourselves know. This man, delivered up by the set plan and foreknowledge of God, you killed, using lawless men to crucify him. But God raised him up, releasing him from the throes of death, because it was impossible for him to be held by it." Acts 2:1-24

Understand (Heart):
Pray: God, Holy Spirit come upon us and make us apostles of Jesus. Give us great zeal to share Jesus with others. May we include all of God's children in our heart and proclaim to all women and men your message of love through our words and deeds. Amen.

Serve (Wisdom-Hands):
Do: This week how can you share God's message with others? How can you welcome into your friendship those that you usually exclude or do not even think of?


Week of May 29-June 5: Most Holy Trinity. The Church as Sacrament of Salvation: Unity, We are priests.
Know (Mind): 
Read: "The Church, in Christ, is like a sacrament - a sign and instrument, that is, of communion with God and of unity among all men." The Church's first purpose is to be the sacrament of the inner union of men with God. Because men's communion with one another is rooted in that union with God, the Church is also the sacrament of the unity of the human race. In her, this unity is already begun, since she gathers men "from every nation, from all tribes and peoples and tongues"; at the same time, the Church is the "sign and instrument" of the full realization of the unity yet to come. As sacrament, the Church is Christ's instrument. "She is taken up by him also as the instrument for the salvation of all," "the universal sacrament of salvation," by which Christ is "at once manifesting and actualizing the mystery of God's love for men." The Church "is the visible plan of God's love for humanity," because God desires "that the whole human race may become one People of God, form one Body of Christ, and be built up into one temple of the Holy Spirit." Catechism of the Catholic Church #775-776

Understand (Heart):
Pray: Lord Jesus Christ, you call us to be members of your body the Church and to continue your Mission of Salvation in the world. Help us always remember that our lives and actions contribute to this great purpose. May the world know God's mercy through us. May we be builders of peace and unity. Amen.

Serve (Wisdom-Hands):
Do: This week try to be intentional in bringing God's love to others through your words and deeds. Above all seek to build unity and peace.

June 6-12: Solemnity of Corpus Christi. The Church as Sacrament of Salvation: Service


Know (Mind): 
Read: "When he had washed their feet and put his garments back on and reclined at table again, he said to them, "Do you realize what I have done for you? You call me 'teacher' and 'master,'  and rightly so, for indeed I am. If I, therefore, the master and teacher, have washed your feet, you ought to wash one another's feet. I have given you a model to follow,  so that as I have done for you, you should also do." John 13:14-15

Understand (Heart):
Pray: Loving Father, this week help me remember that like you I am meant to be bread broken and shared, that I am here to serve others, especially the poor. As I go about my day help me be always ready to help others, seeking every opportunity to serve and not to be served. Amen.

Serve (Wisdom-Hands):
Do: This week go about as a servant, be attentive to the needs of others and take every opportunity to serve. Be intentional in sharing your time and self with others. Do something for the poor.

June 13-19: The fullness of the Divine Life within us: We are Good Samaritans. Through Sanctification, we become the Good Samaritan, Neighbors to all others. (Symbol: Good Samaritan).  Through the Sacramental Life, we change our focus from self-centeredness to self-gift, we like the Good Samaritan become a neighbor to all others.
Know (Mind): 
Read: "Jesus said, "A man fell victim to robbers as he went down from Jerusalem to Jericho. They stripped and beat him and went off leaving him half-dead. A priest happened to be going down that road, but when he saw him, he passed by on the opposite side. Likewise a Levite came to the place, and when he saw him, he passed by on the opposite side. But a Samaritan traveler who came upon him was moved with compassion at the sight. He approached the victim, poured oil and wine over his wounds and bandaged them. Then he lifted him up on his own animal, took him to an inn and cared for him. The next day he took out two silver coins and gave them to the innkeeper with the instruction, 'Take care of him. If you spend more than what I have given you, I shall repay you on my way back.' Which of these three, in your opinion, was neighbor to the robbers' victim?" He answered, "The one who treated him with mercy." Jesus said to him, "Go and do likewise." Luke 10:30-37

Understand (Heart):
Pray: God who in Jesus has become our neighbor: Open our eyes to the needs of our brothers and sisters; inspire in us words and actions to comfort those who labor and are burdened. Make us serve them truly, after the example of Christ and at his command. And may your Church stand as a living witness to truth and freedom, to peace and justice, that all people may be raised up to a new hope. Amen.

Serve (Wisdom-Hands):
Do: This week try to be intentional in slowing down and noticing the suffering of those around you and do everything you can to bring them comfort and healing.

June 20: Enjoy your summer!  Faith Formation will be back in the Fall. During the Summer, be intentional in bringing faith into everyday life in your household through attending Sunday Mass and at home: morning and night prayers, prayer before meals, or other practices and devotions.    
The following songs can help you reflect on our Easter theme: